How to make a CV an optional field for your ads?
If the CV is not a mandatory factor for your job selection, you can make it optional. Optional CV makes the application process easier for candidates. Also, it can fill your open job position faster.
To make a CV an optional field, check (select) it in the second step when ordering ads.

Candidates need to fill in basic information only: name and surname, contact information and an additional open field to present themselves if they want.
These job ads will be labeled in the job search page. This is very convenient for candidates, as they can apply as soon as they see the job. No need to have their CV with them.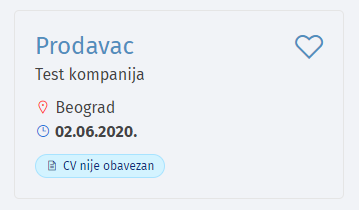 Optional CV simplifies the application process for candidates, and increases the chance to get more applicants.
Back to FAQ