Employer Branding Academy
The fastest way to become a certified Employer Branding Professional!
WORLD CLASS EMPLOYER BRANDING IN PARTNERSHIP WITH
How to beat your competition and attract and retain the best candidates
Universum, as the largest and the most recognized global company for employer branding research and services, and our HR Lab Employer Branding, invite you to become part of the Serbian generation of attendees of the famous Employer Branding Academy.
4,6 / 5
overall satisfaction
A SELECTION OF COMPANIES THAT PARTICIPATED
" As someone who still does not have much practical experience in Employer Branding, except in the field of recruitment and selection, the Academy has provided me with a very useful insight into this area through a clear structure and practical experiences shared with us, both by lecturers as well as from other participants.
Sonja Šobot
Academy Attendee
" Exactly that knowledge and information can be used by every company in order to create its original employer brand, that attracts and keeps the best talents.
Slađana Martinović
Recruitment & Sourcing Manager, IKEA South East Europe
" The possibility of accessing the learning platform at any time suits me and that has significantly made my organization easier, Units themselves are very well designed and supported by quality materials and good practical examples. In addition to the lecturers and organizers, the strongest impression on me was left by the Academy participants themselves - the enthusiasm and creativity of colleagues were contagious and I have no doubt that we have some great initiatives and strategies ahead of us.
Milica Marković
Talent Manager, TX Services
" EB Academy provides excellent insight into all aspects of Employer Branding. What benefited me the most was that in all the ​​information, activities and thoughts on this topic, I have now managed to create a clear structure of it all. Employer Branding Academy covers the basics of Employer Branding, and is useful for beginners, but also provides a lot of additional materials, for those more experienced, who would like to go deeper into the topic.
Irina Nišavić
Marketing and Communications Manager, Microsoft
Unique insights
The course will give you the practical tools, skills and knowledge needed to build your employer branding strategy, execute it and measure your results.
E-learning
Online platform with videos, toolkits and virtual webinars - fully flexible and you can decide when and where to study.
Flexible studies
Once you start a 9-week program you can go through the modules in accordance with your time, pace of learning and other daily activities. 2 to 3 hours a week is on average enough to master all the tasks.
Alumni network
The course will give you access to a unique international network of fellow professionals that share knowledge and best practices.
Certificate
Upon successful completion of the Academy, you'll receive a unique global certificate.
Who is the Employer Branding Academy for?
Employer Branding Academy is for all people who have or want to have an impact on employer branding and other processes of attracting and retaining talent in their companies, regardless of the size or industry in which those companies operate.
Whether you are in managerial or operational positions, and whether you have just stepped into the business world or have many years of experience, the Academy is especially suitable for all those who perform some of the following activities in their work positions:
Employer Branding
Human Resources
Recruiting
Talent Aquisition
Marketing
Communications
Management
The course covers these main areas of study:
Module 1
WHY EMPLOYER BRANDING
This module will give you an understanding of the value of employer branding and the key steps you need to take to establish a robust foundation for your employer brand strategy.
YOU WILL LEARN HOW TO:
Align employer branding with wider organizational objectives
Identify your key target audiences
Review the current status of your employer brand
Module 2
BUILDING A STRATEGY
This module will help you identify and develop a strategy that will build a stronger employer brand and deliver more effectively on the key talent needs of your organization.
YOU WILL LEARN HOW TO:
Define your key strategic objectives and KPIs
Build a strong business case for employer brand investment
Develop an effective Employer Value Proposition
Module 3
TELLING YOUR STORY
This module will help you to communicate the right message to the right people through the right media.
YOU WILL LEARN HOW TO:
Establish the right visual identity for your employer brand
Develop an effective employer brand activation plan
Address localization and diversity
Module 4
FOLLOW UP AND ADAPT
This module will show how to communicate to and gain the support of your teams, help you focus on getting your organization to deliver the right experience, and ultimately measure your success.
YOU WILL LEARN HOW TO:
Brief and enable your management stakeholders
Shape the brand experience
Evaluate and evolve your strategy
Module 5
PUT YOUR NEW SKILLS INTO PRACTICE
Start using the knowledge and tools you have acquired during the course. The last module is a real case study, where you apply your knowledge, tools and structure in a final exercise.
THE FINAL MODULE CONSISTS OF:
Final exercise for course graduation
Live presentation of exercise during an interactive webinar
Getting useful feedback from our experienced employer branding specialists
Online course access
Ready-to-use templates
Certification and diploma
Written feedback and recommendations on final project from Employer Branding experts
Team support
Community calls with peers and trainers
Written feedback and recommendations on final project from Employer Branding experts
Certification and diploma
Community calls with peers and trainers
Want to register?
If you want to enroll in the Employer Branding Academy or you need more information, fill out the form by clicking on the "Contact Us" button and we will contact you as soon as possible.
For direct consultation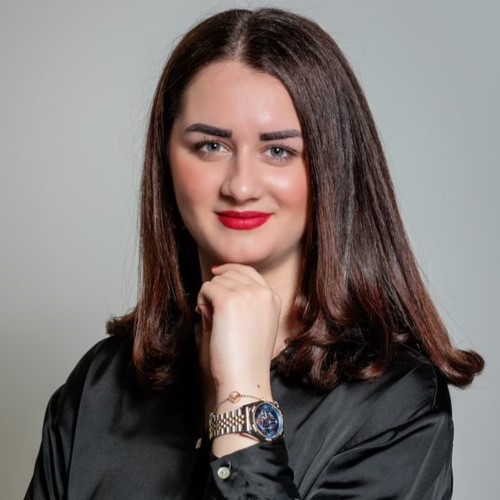 Tamara Grbić Franjković
Employer Branding Advisor